CITY TV News anchor Anne Mroczkowski interviewed four Man to Man survivors on Monday September 18, 2006, the first day of Prostate Cancer Awareness Week. Pictured above from left to right are: Anne, Ray St-Sauveur, Aaron Bacher, Mark Dailey (also a CITY TV anchor) and Ron Foreman.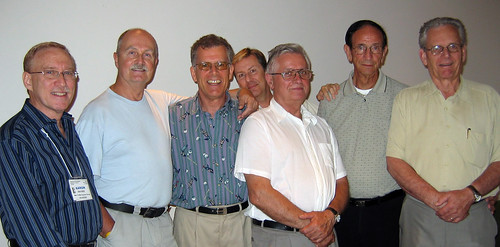 Survivor II Forum Speakers, July 26, 2006 – Slideshow
Aaron Bacher, Paul Gauthier, Ron Foreman, Marc Durocher, Frank Zoebelein, Ray Turner, Gordon Burchill

Man to Man hard at work at Pride 2006 – Slideshow

Man to Man at the Relay for Life 2006 – Slideshow

Dr. Gerard Morton at our March 29th Awareness Night – Slideshow

Man To Man Volunteers
Standing: Moe Wagman, Lou Silver, Allan Lappin, Jim Moran, Ron Watterson, Ivan Samuels, Ron Benson, John Roth, Stan Sandler, Gerry Garshon, Jack Chisvin, Ray Turner, George Zadek, and Bob Elliott. Seated: Aaron Bacher and Dick Arai.

Important Day For Man to Man – After almost four years of planning, Man to Man today (September 28, 2006) began to do patient visitations at Sunnybrook Hospital. Pictured above with Chairman Aaron Bacher are Jerry Garshon and Ray St-Sauveur, two radical prostatectomy survivors who visited two patients in the C2 ward at Sunnybrook, who each had a radical prostatectomy. Next to Jerry, Aaron and Ray are Clinical Educator Elaine Avila; Team Leader Janet King; and Staff Nurse Muriel Griffith.

On Tuesday September 26, 2006 Chairman Aaron Bacher took part in a panel discussion at the Self-Help Resource Centre, launching Self-Help Awareness Week. Pictured above from left to right: Aaron, who spoke about being a prostate cancer survivor and our Man to Man support group; Interim Coordinator of the Ontario Self-Help Network Spencer Brennan who facilitated the meeting; and the evening's three other speakers: Dena Lynn, who suffers from fibromyalgia/chronic fatigue syndrome; Barry Shainbaum, who now considers himself cured of bipolar disorder; and Janet MacNeil, who related her experience about being diagnosed with MS.
All four speakers are now involved with support groups where they are helping others with similar problems.